Development & Growth
How we keep learning cool and interesting
Epta UK encourages you to grow 
At Epta UK we recognise that the training and development of our people is essential for our ongoing success. Therefore, we are committed to enabling our employees to develop and enhance their skills and experience in support of Epta UK's business objectives.
We aim to provide easy access to relevant training activities and appropriate development opportunities for our people. We also provide comprehensive HS&E training, based upon the specific requirements of your role.
EPTAcademy Leadership Program: Epta and SDA Bocconi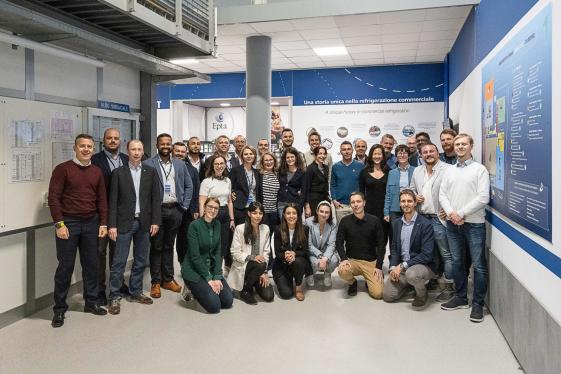 The project, launched in 2017, aims to improve management skills of EptaPeople and provide practical tools to make the management of companies, teams and individuals more efficient. EPTAcademy, aims at boosting the development and awareness of crucial topics such as People and Business Leadership, tackle skills, attitudes, mindset and useful tools to improve effectiveness in leading the business, individuals and teams. 
CO2 Epta Training Centre 
Benefitting from its extensive experience in natural refrigerant applications and especially in the installation of CO2 systems, in 2009 Epta decided to set up a Training Centre in the United Kingdom:  a hub in which this unique expertise can be shared. So far over 250 Epta Group professionals as well as external specialists from the industry have been involved in the training and refresher courses offered on advanced techniques.
These high-level courses focus on the use of CO2 as refrigerant and on the technical knowledge needed in this area.
A complete state-of-the-art set of equipment is made available to the attendees for the purposes of training and research:
Cascade System
A two compressor cascade system with standby cooling together with inverter control.
Transcritical Booster system
A multi compressor system comprising MT and LT booster compressors. The system is configured to utilise multiple transcritical and flash gas solutions. The plant is equipped with inverters and standby cooling.
Pumped system 
Featuring a hermetic refrigerant pump and multiple regulation valve options. This structure has obtained the "City & Guilds" certification which attests to the value of the Epta experience, a further confirmation of its high quality standards. The centre is managed by two City and Guilds approved assessors, the teaching positions are entrusted to knowledgeable and qualified consultants who can lecture in many different languages. The staff's expertise was earned over many years of work with CO2 systems. The F-Gas centre is equipped with a City & Guilds approved test ring and full brazing equipment.
 
CO2 Epta Training
In our CO2 training centre, we offer both our colleagues and external specialists from the commercial refrigeration industry a wide range of different training courses:
Epta CO2 Service course | Course Duration 2 Days
Undertake theory and practical training that gives you the experience to carry out service and maintenance on all types of Epta-supplied CO2 equipment. This course covers pumped systems, transcritical boosters systems, and cascade systems 

Epta CO2 Appreciation course | Course Duration 1 Day
A course designed for those who want to understand CO2 systems but do not want to work with the equipment. The course covers the basic principles of using CO2 as a refrigerant, the basic types of CO2 systems and the health and safety aspects of working with CO2 

CITY & GUILDS 6187-31 - CO2 Service & Maintenance | Course Duration 3 Days
Undertake theory and practical training to prepare you for City & Guilds industry-certified qualification. The course covers, basic principles, CO2 systems, risk assessment, and practical work on transcritical, cascade, and pumped systems.

CITY AND GUILDS 2079 F-GAS | Course Duration 2 Days / 3 Days
Undertake theory and practical training to prepare you for the 2079 F-Gas qualification. The course is offered as a 2-day session for experienced engineers and a 3-day session for those requiring additional technical training. The final day includes the City & Guilds assessment.

BRA Brazing Assessment | Course Duration 1 Day
A course for those who need the skills to braze to the BRA specification. The course covers Health and Safety, the use of Oxy/Acetylene equipment, and teaches both brazing and silver soldering. Assessment is carried out by producing a standard specimen test piece.

CITY & GUILDS 6187-21 - Hydrocarbon Service & Maintenance | Course Duration 1 Day
Undertake theory and practical training to prepare you for the 6187-21 hydrocarbon qualification. The course covers theory and practical aspects of working with Hydrocarbon refrigerants and concludes with an assessment of skills.